"the Voice" did not give him Aura Type, Strategy and Authority as we know it today. Ra received the raw substance of Human Design, which he then synthesized through his thousands of readings and teaching his students about how this illusion that we live in functions. Ra structured the Mechanics of the Maia into the "Human Design System, the Science of Differentiation" that we have today.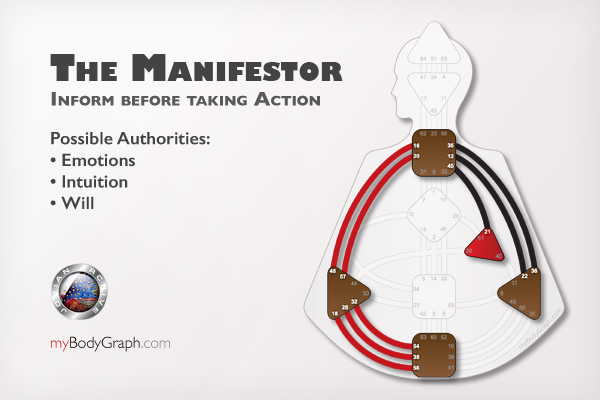 myBodyGraph.com allows you to create a free account to discover your Human Design. You'll be able to access various graphical views of your Bodygraph, along with written descriptions and audio recordings.
You'll hear Ra Uru Hu, the founder of the Human Design System, explain your Strategy as to when to make decisions, and what your Authority is - your way of choosing correctly. Learning all about this complex system is unnecessary to operate correctly; all you need to do is KNOW YOURSELF and experiment with living your design to discover how well it works for you.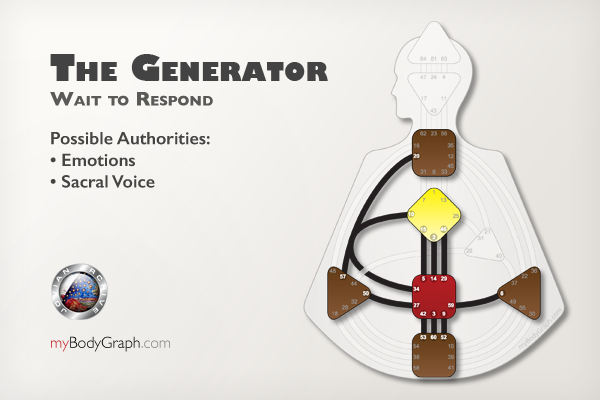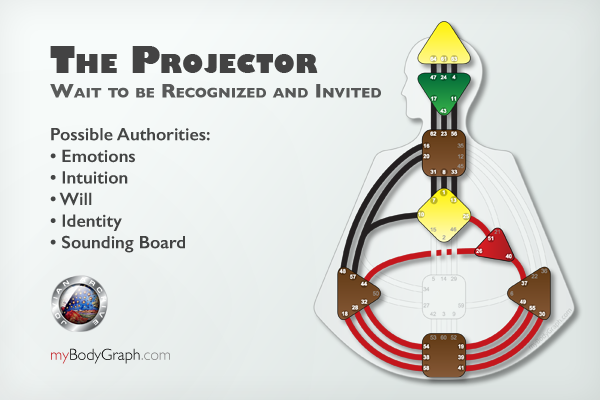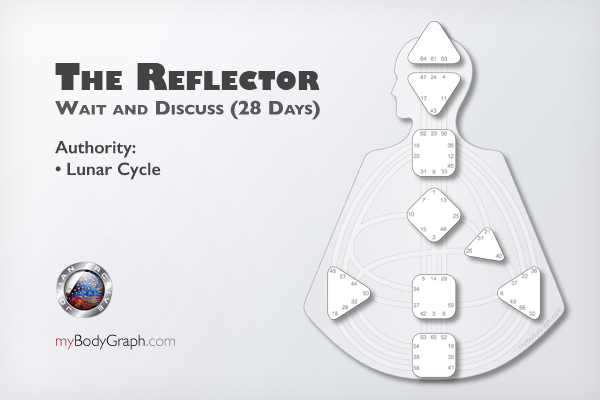 Mind is Never Your Authority
Not-self conditioning causes your mind to become the false authority. Your deeply conditioned mind attempts to be your authority because it is subject to the adaptive strategies taken on to protect the openness within you. Adaptive strategies such as avoiding confrontation and truth result in not being able to live as yourself.

Mind acts as a spokesperson for the openness in your chart - specifically your undefined centers, as well as bridging gates between areas of your definition if you are a simple split. You can't turn off your mind's pratering, but you can watch the interaction between the mind and the Centers to facilitate awareness.

When you are new to your experiment, you'll notice your mind second guesses your Authority, which is a clue as to what to ignore or not believe. Your mind can never know what is right or what is wrong when it comes to making decisions about yourself, because of conditioning. You can't believe anything your mind says about you!

Like snowflakes, all of us have an exquisitely unique design. Life Force Energy flows through the channels within us all from the Pressure Centers at the Head and Root, to be expressed at the Throat, our Center for communication and manifestation. Like Mind, all three of those Centers are also never an Authority in your life.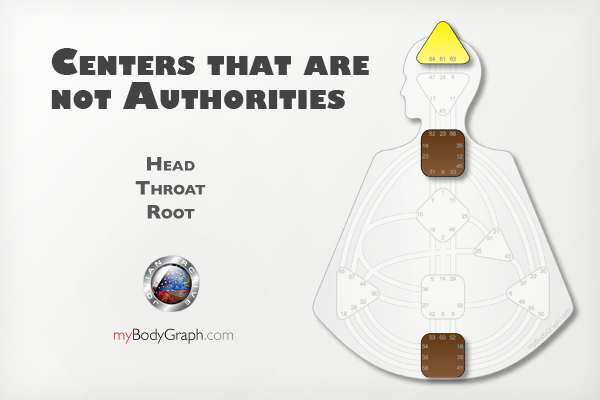 Inner Authorities:
Solar Plexus
Sacral
Spleen
Heart
G

Outer Authorities:
Environment
Lunar
Common Human Design Authorities
The Solar Plexus (Emotional Center), Sacral and Splenic Authority Centers are the ones that show up most often in the world, with about half of our population being Emotionally defined. Often you will see Human Design charts that have one, two or all three of these Centers defined. Once in a while, you'll see a bodygraph with none of them defined.
Emotional Authority
If you see the inward pointing triangle on the lower right-hand side of your bodygraph colored in, you know that you are an Emotionally defined being because of your consistently energized Solar Plexus.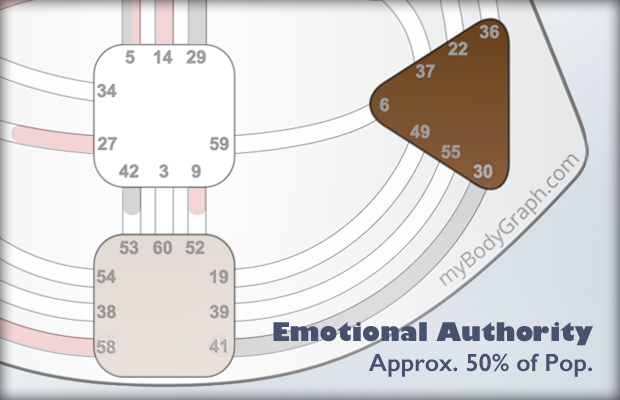 Types of Emotional Authority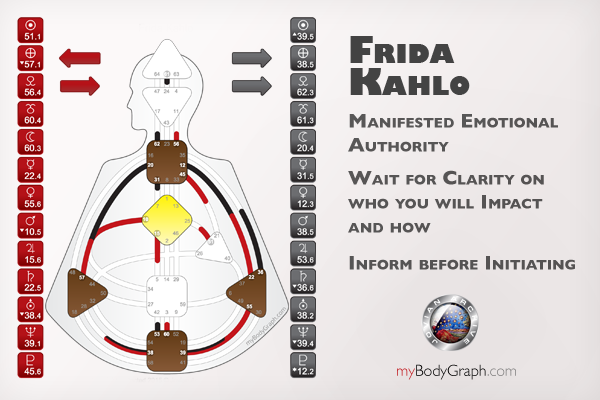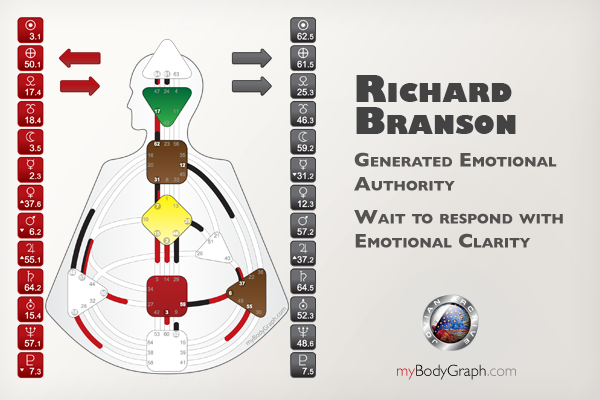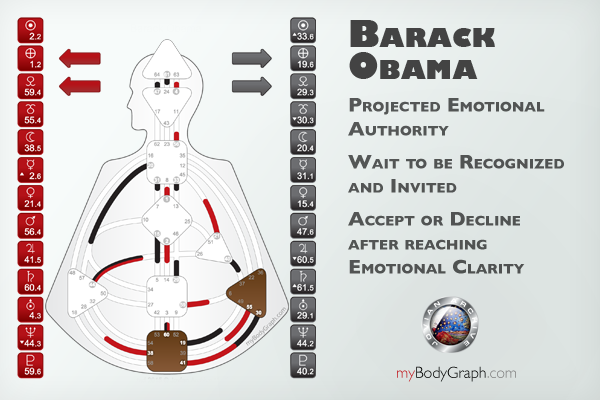 Related Products
Click here to preview and order

- - - - - -
Click here to preview and order

- - - - - -
Click here to preview and order

- - - - - -
Click here to preview and order

- - - - - -
Click here to preview and order

- - - - - -
Click here to preview and order

- - - - - -
Click here to preview and order

- - - - - -
Click here to preview and order

- - - - - -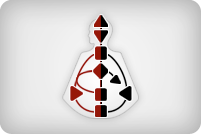 www.myBodyGraph.com

- - - - - -