The Gate of the Fighter
The pulsing pressure to find or struggle for purpose in life comes from your Root Center through Gate 38, "Opposition." This individual, mutative energy to struggle for purpose fuels the fear of purposelessness in life or that life has no purpose unless you take risks. This inherent energy of struggle for individual integrity and purpose empowers you to lock in on the one risk worth fighting for and developing your intuitive processes.
The Gate of Drive
The pressure to achieve, to rise up, to transform comes through Gate 54, "The Marrying Maiden." Laden with incredible potential, this powerful tribal energy brings the drive to succeed, fueling instinctive awareness of what can be transformed or not and the fear of failure. This gate brings the realization that true spirituality is lived out on the mundane plane.
These gates originating from your Root Center are of enormous importance to your well-being, providing pressure to grasp the beauty of your process and fueling the survival-based fears of the Splenic Center. Those with definition between these two centers especially need regular physical activity in order to stay healthy.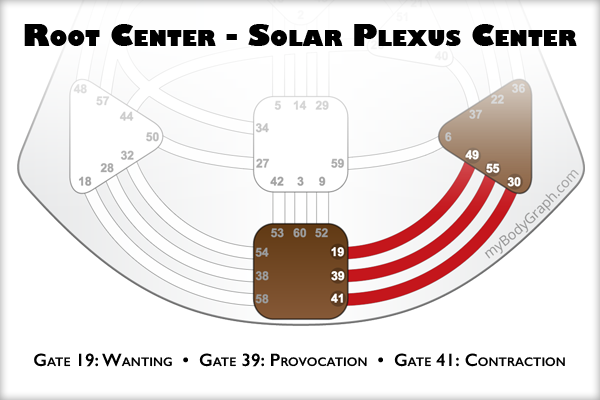 The Gate of Provocation
Pressure find the passion, spirit in life and to emote comes through Gate 39, "Obstruction." This strongly individual, mutative frequency provokes out of uncertainty, certainty in Spirit. Gate 39's energy pulses fuel personal melancholy, as well as nervousness from not knowing what or who to be passionate about. Once linked to the correct spirit, this gate fuels the potential to emote, bringing mutation to manifestation and bringing out the individual spirit.
The Gate of Contraction
Pressure to feel and desire a new experience comes through Gate 41, "Decrease." This collective, abstract energy drives the wave of emotions from hope to pain, locking in the desire for one experience at a time, pressuring nervousness about what might or might not happen. Pushing us into a life experience that is nothing but cycles, our human experiential process begins here and fuels our evolutionary process in sequences.
When your Root Center is defined, you can put pressure on those with undefined roots, especially if your mind is dictating your life. You can become obsessive, improperly initiating, meeting resistance that brings stress you aren't designed to handle which can undermine your health. Follow your Strategy and Authority to move forward in life grounded in the correct frequency of your Root.
Question for Inquiry: Do you recognize the pressures in your life that are yours? What about the pressures that are not yours?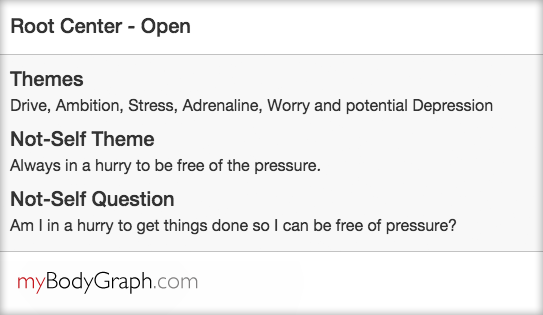 Click here to join the conversation.
By Andrea Abay-Abay
Related Products
Click here to order
- - - - - -
Click here to preview and order
- - - - - -
Click here to preview and order
- - - - - -
Click here to preview and order
- - - - - -
Click here to preview and order
- - - - - -
Click here to preview and order
- - - - - -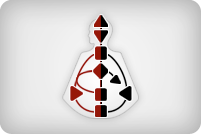 www.myBodyGraph.com
- - - - - -